About Metal Shop - Dallas
About Metal Shop - Dallas
Metal Shop has been rocking stages, servicing groupies and abusing roadies since 1982 back on the Sunset Strip. It all started when the band was living in Ratchett's mom's basement. Ginger claims "We saw a Def Leppard video on MTV (back when MTV was cool) and saw all the hot chicks that they were getting. We wanted hot chicks too, but the only way to get hot chicks is to be in a band, wear tons of makeup, cool clothes and have big hair, so we decided to start a band. We've been around since we were born."
---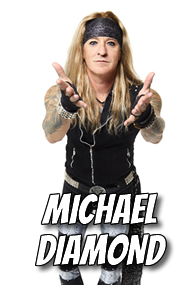 Michael Diamond, Lead Vocals
Birth date:
August 11
Sign:
Leo
Birth place:
New Orleans, LA
Birthstone:
ROCK!
Height:
5' 10"
Weight:
150 lbs.
Eye color:
Blue
Hair color:
Blond
Hair length:
2'
Groupies Conquered:

Glove size:
Magnum
Endorsements:
Jack Daniels, Trojan
Favorite Food:
Muffaletta
Current Book:
Hustler Magazine
Favorite Album:
Metal Shop IV (it's the one after Metal Shop II)
Pets:
Alligator named "Elvis"
Number of Tattoos:
3
Accolades/Awards:
See "Groupies Conquered" above.
History:
Michael's mother was a famous groupie among musicians back in the day. It is believed that his father is either Robert Plant, Rod Stewart or James Brown - as they were all present at the time of conception. Michael has a man-crush on Indiana Jones and an uncomfortable and strange attachment to clothes, espcially his boots and custom pants made by
Suzi Fox's Liquid Vinyl Clothing
. One pair of boots he wore so much that they were held together on his feet only by duct tape and chewing gum.
---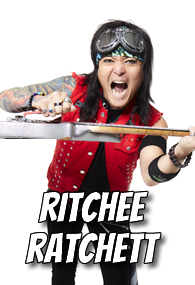 Ritchee Ratchett, Lead Guitar
Birth date: May 19
Sign: Taurus
Birth place: Olongapo, Philippines
Birthstone: ROCK!
Height: 5' 7"
Weight: 142.5 lbs. with a guitar
Eye color: Brown
Hair color: Black
Hair length: 96 cm
Groupies Conquered: I was supposed to keep count?
Glove size: I don't wear gloves
Endorsements: Any guitar company that's lucky enough to have me endorse them.
Favorite Food: A small portion spring salad, followed by roasted duck cooked at 180ºC with thyme, star anise and butter melted into duck juices, followed by a 3oz scoop of raspberry sorbet.
Current Book: Ritchee Ratchett: The Greatest Guitar Play of All Time (Uncensored and Unauthorized Edition)
Favorite Album: Metal Shop Guitar Instrumental Vol. I
Pets: Tarantula and scorpion, both named "Ritchee"
Number of Tattoos: 1 full sleeve (right arm)
Accolades/Awards: Greatest 80s Hair Metal Rock Guitarist in the Universe 1980-1985, 1987-1989. (In 1986, I had a nasty, recurring hangnail. It happens.)
History: Ritchee was destined to be the "savior" of his people. His birth - in Olongapo, Philippines during a time of conflict and feuding between the "Righteous Guitar Clan" (which defended music and peace) and the "Mysterious Warrior Clan" (who sought to spread silence and oppression) - ignited an attack on the once peaceful Filipinos. This conflict caused the "Righteous Guitar Clan" to flee to America. By seeking help from the musically divine "Ratchett Clan" for guidance and protection until he was old enough to fulfill his destiny, baby Righteous was adopted into the "Ratchett Clan" as Ritchee Ratchett. Ritchee, along with his Metal Shop family - Michael Diamond, Ginger Roxxx and Crash Gordon - stand together to defend and protect the world "one guitar solo at a time" while rockin' the world!!!!
---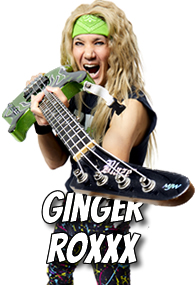 Ginger Roxxx, Lead Bass
Birth date: November 16
Sign: Slow Children at Play
Birth place: Ratchett's mom's on the Sunset Strip
Birthstone: ROCK!
Height: I can ride most rides
Weight: For how long?
Eye color: Brown
Hair color: Blonde
Hair length: 5' 3", wait, how tall am I?
Groupies Conquered: Madonna, who else matters?
Glove size:
Endorsements: Aqua Net, Conair Hair Dryers, Sally's Beauty Supply
Favorite Food: Nachos
Current Book: Coloring
Favorite Album: I like the one from when we played in Corpus Christi, TX. The pictures were good in that photo album.
Pets: Porcupine named "Prick"
Number of Tattoos: 0
Accolades/Awards: Voted Sexiest Bassist on the Sunset Strip 1987, 1988, and 1989
History: I think Benjamin Franklin was the first president.
---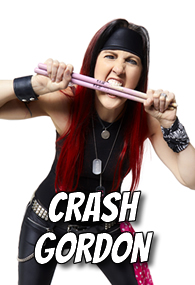 Crash Gordon, Lead Drums
Birth date:
April 30
Sign:
Taurus
Birth place:
Los Angeles, CA
Birthstone:
ROCK!
Height:
5' 4"
Weight:
120, wait, no 105 lbs.
Eye color:
Green
Hair color:
Pink
Hair length:
1' 9"
Groupies Conquered:
I'm uncomfortable.
Glove size:
What size do you have?
Endorsements:
Starbucks, Chuck Taylor Converse, Fuzzy's Taco
Favorite Food:
Tacos
Current Book:
Are You There God? It's Me, Margaret
Favorite Album:
Crash Gordon Theme Song (EP)
Pets:
Medusa snake named "Starbuck" and a hamster named "Animal"...although, she hasn't been able to find Animal for a few weeks.
Number of Tattoos:
8
Accolades/Awards:
Infinite Wimpy Weight Champion of the World
History:
Crash was born "Crash Symbol Gordon". Her parents named her Crash because she was born during a car "crash" on The 101 with a
SABIAN
18-wheeler. Crash has two younger brothers, Slash (the Frognot, TX Tiddlywinks Champion 8 years in a row, named after Slash from GNR) and Splash (also a drummer). She has one sister named Trash who is a stripper on Sunset Strip. Crash learned to play drums from the drummer of Cinderella, Fred Coury's, great aunt's third cousin twice removed. Crash dropped out of school at age 16 to go on tour as "Animal" in the Muppet Show Road Tour, but lost her position with the band three years later after a lengthy battle with Starbucks addiction. She migrated to Dallas, TX after hearing that Starbucks was cheaper there. Due to her bat-sized drumsticks that she uses during her beloved nightly drum solos, fans often can be heard saying "Crash has the biggest wood in the band". The
Crash Gordon Theme Song's
lyrics were written and sung by Crash Gordon herself.